Do You Have A Stamped or Decorative Project We Can Help With?
Beautify for less
Stamped Asphalt & and Decorative Paving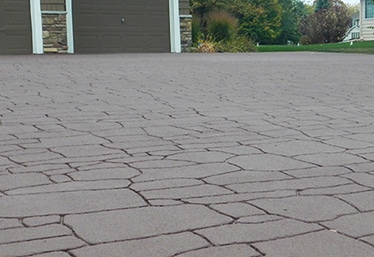 Asphalt paving is one of North America's building blocks. The United States has more than 2 million miles of paved roads and highways, and 94 percent of those are surfaced with asphalt.
The reasons are simple; asphalt can be designed to work anywhere and is smooth, quiet, durable and safe, not to mention it is the most recycled material in the United States. According to the U.S. Environmental Protection Agency and the Federal Highway Administration, about 90 million tons of asphalt is reclaimed each year, and over 80 percent of that total is recycled back into new asphalt paving.
One challenge has been finding practical decorative and color treatments that work in asphalt pavement. Traditional materials such as bricks, pavers and stamped concrete cause structural problems such as shifting, settlement and cracking when put into the pavement surface.
Stamped asphalt is a decorative product which is made by transforming regular asphalt into imitation brick, stone, or slate. The process involves the creation of an impression into an asphalt surface using a combination of heat, a stamping template, and a plate compactor. Creating impressions in the asphalt can be achieved by working behind a paver or reheating the asphalt with reheating equipment.
Create the appearance of a cobbled drive or patio without the cost.
Fill out the form below and one of our excellent estimators will contact you!